Used to Treat:
Removal of spider veins, facial telangiectasias, solar lentigines, age spots, nevi, skin tags, fibromas and cherry hemangiomas plus so many more skin indications.
Price Guide:
$420 – $599 per Full face – Face Neck and Chest – $799 all Skin Rejuvenation receives a complimentary LED Healite 830nm post treatment valued at $120 complimentary to extend wound healing. Packages also available – Pay for 2 x upfront receive 3 x treatment complimentary.
For your Skin Rejuvenation At Destiny, use the Clarity Laser because it's one of the most versatile dual wavelength platforms on the market (a brilliant combination of the Alexandrite 755 and Nd:Yag 1064  in one). The Clarity Laser allows us to drastically shorten your treatment time and produce amazing results results. Plus, the attached Zimmer Cooling device makes your laser skin rejuvenation treatment comfortable.
Clarity Laser for rejuvenation
The Clarity Laser works miracles on problematic skin. Whether you're fed up with wrinkles, pigmented lesions, rosacea, broken Capilliaries or uneven skin tone, Clarity can rejuvenate your complexion for a smooth, even, youthful appearance. For dark spots and discoloration, Clarity works by selectively targeting melanin in the skin and using heat to break up the pigment. The body naturally absorbs the pigment particles and flushes them through your lymphatic system.
For wrinkle reduction, Clarity stimulates fibroblast Cells, which produces new collagen production. The laser sends heat into the treatment area to create controlled damage, triggering the body's natural healing response. Rebuilding the internal structure of the skin takes time, so patients often see their results improve with several treatments in the weeks and months that follow.
Clarity Laser for Broken Capillaries
With the Clarity Laser, we can drastically reduce the appearance of broken Capillaries. The Clarity uses dual wavelengths to deliver light energy beneath the surface of the skin into problem vessels. Once the veins are targeted, the heat from the laser causes the blood to coagulate and heat up the walls of the blood vessels. The veins then collapse, close, and fade from view over several treatments and time.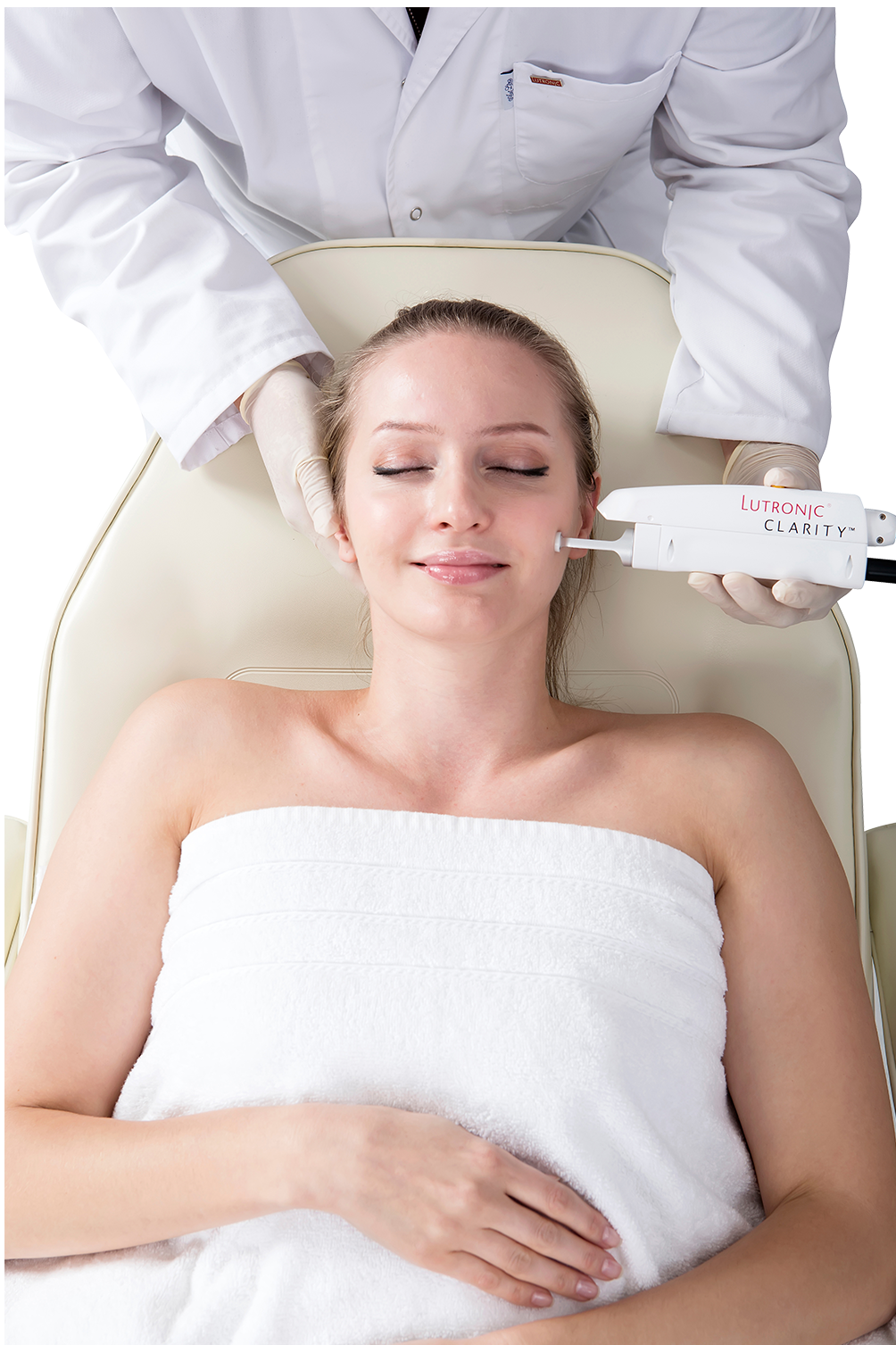 Frequently Asked Questions
Is there anything I should avoid before my treatment?
If you are undergoing Laser rejuvenation we recommend avoiding direct sunlight and tanning for several weeks before your appointment. A suntan can put you at risk for burns and may make the treatment less effective. Ask us about additional pre-care guidelines for your particular service. Some Medications, products and medical conditions may be a contraindication and will be discussed at your initial consultation prior to your treatment.
How many Clarity treatments will I need to see results?
The number of treatments required will depend on your skin type and the particular issue you're addressing. We recommend a minimum of 4 treatments when treating Capillaries and pigmentation.
Is there any downtime after the treatment?
There may be some downtime depending on what condition we are treating. Clients receiving treatment for pigmentation may experience some darkening of pigmentation for a period of 5-7days. When treating facial veins and rosacea bruising and swelling may occur for up to a few days.
*DISCLAIMER: AS WITH ANY MEDICAL AESTHETIC TREATMENT, INDIVIDUAL RESULTS MAY VARY AND HAVE UNIQUE RISKS AND BENEFITS WHICH MUST BE UNDERSTOOD BEFORE MAKING A DECISION TO UNDERGO ANY TREATMENT AT DESTINY.
To book your indepth consultation or specialist skin treatment, please call our Lismore based skin and laser clinic to secure your appointment.